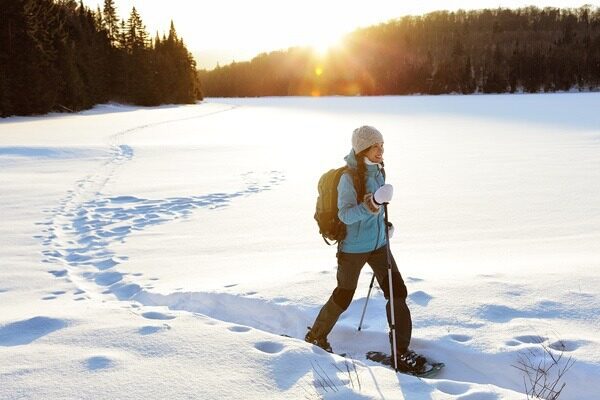 Many people are inclined to stay inside when temperatures drop, and to be fair, there's no shortage of entertaining indoor winter activities. But if you're wondering what to do on a snow day, the great outdoors has plenty to offer. In fact, there are several mental and physical benefits to spending time outside during the colder months. Exposure to the sun can improve your mood and the Vitamin D your body absorbs helps fight off diseases. So bundle up and safely enjoy the cold with one of these outdoor activities.
1. Visit a hot spring
The water of a hot spring is substantially higher than the air temperature of the surrounding region, and perfect to thaw your cold body over the winter. Soaking in a hot spring is a warm and relaxing experience, but this getaway may require some advance planning. Most hot springs are out West with far fewer found in other regions of the United States.
2. Go dogsledding
When looking for fun things to do outside, dogsledding is a thrilling and one-of-a-kind winter activity in which you can drive a team of dogs or just sit back and enjoy the ride. It's also a great way to see miles of beautiful winter scenery. Although Alaska is the dog sledding hub of the United States, there are many great tours available throughout the rest of the country so individuals of any experience level can join in the fun.
3. Build a snowman
Kids will especially love getting outside when the snow starts falling. Grab a few things from around the house on the way out—like a hat, scarf and carrot—and you've got what you need to build a snowman! Let the kids get creative finding special additions around the yard like sticks for the arms and rocks for the eyes, mouth and buttons.
4. Build a snow fort
There's really no shortage of exciting snow activities your family can enjoy right in your own backyard. A snow fort is fun to build, plus kids can enjoy hanging out inside the finished product. To ensure safety, never build alone and do not enclose the structure since a collapsing roof can cause serious injury.
5. Have a snowball fight
A snowball fight is the perfect solution if the whole family, or even the whole neighborhood, is stuck at home on a snow day. The more the merrier! It can be as simple as tossing a few snowballs back and forth, or it can be a more epic experience with forts, rules and strategy. Just make sure everybody plays fairly and is mindful of younger kids so nobody gets hurt.
6. Go ice fishing
If you love fishing, don't let the cold stop you over the winter. Ice fishing is a great excursion that involves fishing through a hole in the ice of a frozen body of water. Make sure you do your homework to find a safe fishing spot and show up prepared with the right equipment, like an auger, sled, ice rods, and bait container.  A successful ice fishing trip is a rewarding experience on its own, but made all the better once you can sit back and enjoy your catch.
7. Go tubing or sledding
Take advantage of any nearby hills over the winter with a sledding adventure. Or if that's not an option, find a nearby ski resort that offers tubing. Sledding and tubing provide an exhilarating adrenaline rush for the young and old. For the youngest thrill seekers, you can start out by simply pulling a sled or tube around the backyard.
8. Go ice skating
Many people stick to inside rinks for ice skating, but getting outside for this activity is a magical experience. Some states have ponds or lakes that are safe for ice skating over the winter. Or you can rent skates at an outdoor rink at a park or even in the heart of a downtown metropolitan area. Ice skating makes for a great solo activity, romantic date, or family and friend outing.
9. Go snowshoeing
If you enjoy exploring parks during the warmer seasons, snowshoeing is the perfect way to extend the fun through the winter. It's a form of hiking in which you wear special footwear that distribute your weight to keep you from sinking in the snow. Snowshoeing is one of many outdoor winter hobbies that are perfect for the whole family since all ages and ability levels can enjoy it together. It's also great exercise and inexpensive. All you need to get started is warm, waterproof boots and snowshoes that are right for your weight, the terrain and the snow conditions. Adjustable poles with snow baskets are optional, but recommended.
10. Go skiing or snowboarding
Skiing and snowboarding are among the most popular winter sports, with 470 ski resorts operating in the United States during the 2019-2020 season. Both skiing and snowboarding will take you on a thrilling ride over the snow, either with a pair of skis or a single snowboard attached to your boots. You'll have no trouble finding the perfect ski resort, whether you're looking for a beginner's package or a challenge on the slopes.
11. Ride ATVs
Kick your winter fun up a notch with a ride on an all-terrain vehicle (ATV)! If you usually only ride during the warmer months, make sure you bundle up, wear protective gear and properly prepare your ATV to keep you from getting stuck out in the cold. This includes adding fuel stabilizer to your gas, keeping your battery warm, and checking your spark plugs, oil, air filter and tires. But accidents can still happen. It's important to understand the risks of riding an ATV when purchasing ATV insurance so you can be protected while enjoying your off-road adventures.
12. Go snowmobiling
If you're unfamiliar with snowmobiling, you might be surprised by the diverse uses of these motorized vehicles. Snowmobiling encompasses much more than just winter transportation. For many, snowmobiling is a great way to explore the outdoors on or off trails. Snowmobiles are also used for snow cross racing, a spectator sport similar to motocross, or cross-country racing. If you're looking for great snowmobile vacation spots this winter, you're in luck. More cities, resorts and parks are accommodating the booming activity of snowmobiling.
Snowmobile insurance is required in some states and is always a smart idea to avoid paying out of pocket for damages. Learn more about snowmobile coverages so you're protected on your next winter adventure!
This article provided by Nationwide Insurance, a Bolder Insurance partner.
Disclaimer: The information presented in this article was obtained from sources believed to be reliable to help users address their own risk management and insurance needs. It does not and is not intended to provide legal or tax advice. Individuals should consult their own attorney or tax professional for guidance. Nationwide, its affiliates and employees do not guarantee improved results based upon the information contained herein and assume no liability in connection with the information or the provided suggestions. Nationwide, Nationwide is on your side, and the Nationwide N and Eagle are service marks of Nationwide Mutual Insurance Company. © 2020 Nationwide.